14. 07. 2016 | Brainz Admin
Karlsruhe University of Arts and Design: Annual Exhibition 2016
IMAGIT is participating with presenting conceptual ideas to an extension on narratives in mobile messenger applications.
13. 06. 2016 | Brainz Admin
Student Exchange and Public Presentation by HUFA & HfG
Between May 24th and June 5th 2016 six students from HUFA Budapest visited HfG Karlsruhe to exchange and work on together on different aspects of the IMAGIT project.
A greater focus has been placed on the visualisation and playfulness of the IMAGIT app-concept. Among a diversity of activities, the exchange was highlighted by presenting these ideas publicly within the frame of the GPN 2016 and at a much visited closing event.

06. 06. 2016 | Brainz Admin
Public Workshop with brainz at GPN 2016
The GPN (Goulash Programmers Night) is one of the biggest events for programmers among Europe.
Within the frame, on May 29th members of the IMAGIT-team presented conceptual ideas at a well frequented workshop including a livid discussion with experts about goals and challenges of realisation.

01. 05. 2016 | Pavel Sedlak
IMAGIT in Barcelona
Interim meeting and public presentation
On April 26th and 27th the first interim meeting with all the partners was held in Barcelona at Hangar to activate a sustainable workflow. All previous activities were analyzed and discussed as well as their outcomes compared. The integration of diverse experts and interested parties sharpened the discussion, especially in regards to the further steps. Therefore, a consolidation of international agents in the cultural and artistic sector was encouraged. Following the interim meeting, a presentation of Digital Symbolism and the working version of the IMAGIT application concept were introduced to the public in the framework of Interface Politics conference.
20. 04. 2016 | Pavel Sedlak
On the move… from Budapest to Barcelona
What is the consortium working on these recent weeks? While extensive conceptual and technological research has been conducted in Prague and Karlsruhe, new series of public presentation events got scheduled in Hungary and Spain.
On the last day of March, the IMAGIT project was introduced at the Hungarian University of Fine Arts in a guest lecture of Stepan Klenik and Pavel Sedlak (BRAINZ, Prague). It was moderated by the head of the Intermedia Department Miklos Peternak and received an attention of the students, some of which will participate in a student-exchange program of the IMAGIT project.
During the last days of April, key concepts of IMAGIT will be presented during the international conference Interface Politics. As part of Poetic Deconstruction panel chaired by Tere Badia, researchers, designers and artists will feature Digital Symbolism as a way how to frame development of user-original interfaces, including bigger-data-based mobile applications. The working title of the presentation is "Share More, Know More!". The participation of IMAGIT crew at the conference is co-ordinated by HANGAR - production and research centre for visual arts in Barcelona.
We invite you to read also a related Interface Manifesto.
15. 02. 2016 | Pavel Sedlak
Digital Symbolism
We are presently researching theory and practice of this emerging creative field. Do you want to learn more about some of its historical background…?
The word symbol goes back to the ancient Greek term "σύμβολον" (sýmbolon). The term itself is a composition of the words "συν"- (syn-), meaning "together" and "βολή" (bolē), meaning "throw". That makes a symbol basically a coincidence.
As always with the ancient Greek there is a good story behind for a creation like that. Folks or families used to break objects like pots, rings or medallions into half. One half for themselves and the other one for a friend or ally. If meeting ever again these two groups were able to recognize and identify each other as friends by putting together the two halves.
The symbolists of the 19th century picked up that idea in the meaning of creating something new and beautiful out of pieces of the too realistic day-to-day world. For the ancient Greeks as well as for the artists of the Symbolism the figurative manner was the key issue: "The fundamental characteristic of Symbolist Art is to never fix an idea conceptually or speak directly", as Jean Moréas wrote in his famous manifesto Le symbolisme.
To sound the bells for the next step we are creating a mobile application serving global needs for creative communication, non-verbal expression and throwing together of what we know about this world. Let's share our data, find matching pieces and create new beautiful coincidences that can look differently every day. Join us in this adventure! Feel free to share your ideas and opinions – welcome to the ages of Digital Symbolism.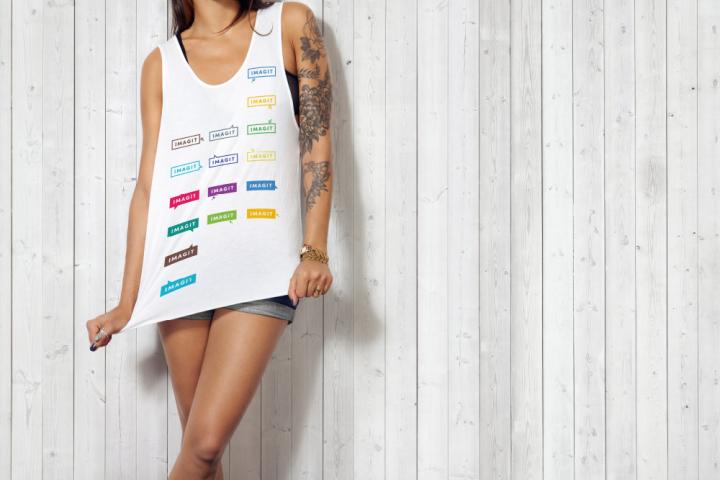 14. 02. 2016 | Pavel Sedlak
How do you like our visual identity…?
We have created this visual identity in Prague with global appearance in mind...
Variability and openness. These are leading principles of our visual communication. Logo can appear in multiple forms, shapes and colors - but always invites imagination. What if…? Have I seen this before…? What did I have in mind…? Try to imagine it! See some more photos here.
14. 02. 2016 | Pavel Sedlak
Students are involved in IMAGIT!
In December 2015 a group of students started working on various interpretations of what digital symbolism can be, what it can mean and do…
This is a summary of topics discussed by students at the seminar in Karlsruhe…  
Attachment: Seminar_Summary.pdf
01. 02. 2016 | Pavel Sedlak
Taking-off...
How did IMAGIT start and where are we heading to…? It is always a challenge to bring together creative minds. Moreover, once this is happening at international level.
IMAGIT consortium involves Barcelona, Budapest, Karlsruhe, and Prague. This geographical scope gives us multiple opportunities to reflect on modes of creative communication from different cultural perspectives. What we share is the passion for digital expression, testing limits of digital verbalism while prospecting future forms of digital symbolism.
Since October 2015 till January 2016 we have organized together several brainstorming sessions, meetings, workshops, and student seminars aimed at initial mapping of the field where social networking trends and tools for digital expression are at a core intersection.